PRESS RELEASE – FOR IMMEDIATE RELEASE 4th OCTOBER 2016
SkyWeb Aerial Media selected for Ground-breaking California Drone Pilot Scheme
Prestatyn, Denbighshire: This week saw SkyWeb Aerial Media, aka 'TheDroneGuy.co.uk', a company that specialises in aerial filming for TV, Film, and the Web,  accepted as one of only a few companies across the globe to take part in a ground-breaking drone-related scheme.
Cape, a US-Based company currently pioneering the use of remotely piloted commercial drones from any location in the world for future commercial enterprises, chose SkyWeb Aerial Media because of its experience in the industry, to be one of the primary participants in testing this ground-breaking technology.
SkyWeb have today started actively flying commercial drones in the deserts of California, using a specialist multi-monitor PC set-up from their base in Prestatyn.
Will Davies, owner of SkyWeb said: "We got in touch with Cape as we're super-keen to be at the forefront of Drone technology.  The drone industry has its challenges for sure, but it needs shaping and carefully taking forward in a way that reassures people they are safe, and non-invasive.
Being at the forefront of piloting drones from remote locations in partnership with a company such as Cape, means we're right on the cutting edge of technology.  It also means we have the ability to actively help shape its development and then use that knowledge here in the UK in the future".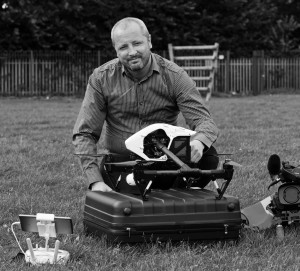 About SkyWeb: SkyWeb Aerial Media is a company based in Prestatyn, run by Will Davies, a CAA BNUC-S qualified UAV/RPAS/Drone Pilot, who specialise in delivering high-quality footage to TV and Film companies, to be shown all over the globe.